In my new job, I've been going through printer cartridges like mad. We continually print out documents for review by customers.
Today, I went out to buy lots of cartridges for my trusty Lexmark (which has served me well for five years and certainly repaid the $37.00 I paid for it on AOL Outlets) and came home with this: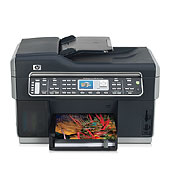 30ppm color and tax-deductible, with cartridges that will cost half as much as what I've been paying.
It rocks.