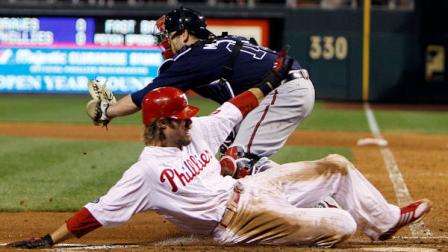 In memoriam Atlanta Braves.
The Phillies are on a tear.
It's a September thing.
(To play 21 ball games and lose only three is one hell of a run in baseball, where two out three is excellence.)
Roy Oswalt and a pair of relievers combined on a one-hitter and the NL East-leading Philadelphia Phillies beat Atlanta 1-0 Wednesday night for their 10th straight win, increasing their bulge over the Braves to six games.

(snip)

The Phillies are 44-15 since July 21, when they trailed the Braves by seven games. They are 18-3 in September.
I'm glad the game was not televised here. My heart probably couldn't have taken it.
I was out most of the evening to support Andrew. I tried to follow the game on ESPN on my Android G1 (really, first things first), but there was no signal in the auditorium.
I did catch the eighth inning in my truck on the skip from WPHT. (Now that I know I can catch it on the skip, I'll likely be spending most of my evenings in my truck in the parking lot . . . .)
Couldn't get it in the condo, but I got to watch the end at the Phillies website.
Most satisfactory.